So until my serger died I was working on an apron for myself at the same time as I was making one for my mom... see previous post to see the one I finished for her. Anyway, here's the pile of would-be cute apron I now don't have time to make. Foo. The pattern is Indigo Junction's
The Ruffled Chef
.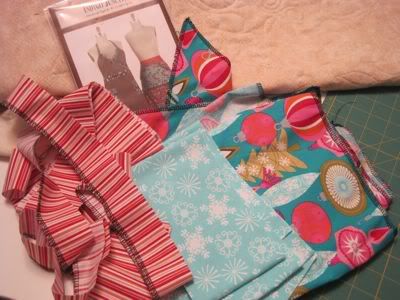 I also sit in the coffee shop on Monday afternoons and quilt while Snookie is in school for a few hours. There is a group of spinners and knitters who I usually sit with and one of them made this lovely pumpkin cowl. I bought it off her and just need to add buttons. I had the big coat button which I think goes in such a nice way. I needed two more buttons and it's taken me a while to remember to pick them up. I have them now and just need the ten minutes to sit down and attach them all.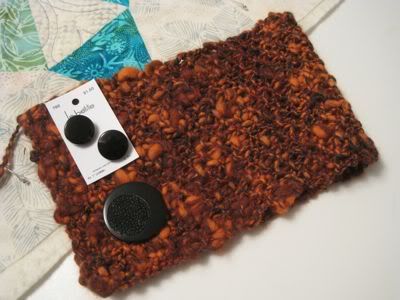 The thing that's been really keeping me busy is my sister's quilt. OH the trouble this quilt has given me! Sheesh.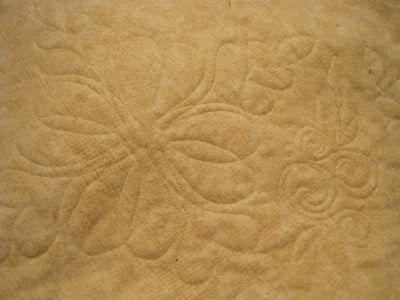 Now, as a disclaimer before I became a SAHM I used to quilt by check (yay for having extra $$ from being employed) of course I can't afford that now so I've been left up to my own devices. Fortunately before I quit my last job I had enough forethought when buying my sewing machine to get a stitch regulator with it. I've been using it to quilt with for the past few years. So while I've been piecing for a long time, the whole quilting aspect is rather new to me. I admit the SR is a bit of a crutch.
Now back to the problem of my sister's quilt. For whatever reason the SR is not happy when I sew over seams while also having a flannel back. I love flannel on the back of a quilt... it makes it so warm and cosy. My friend
Heather
has been encouraging me to let go of the SR and learn to self regulate. Well I had the thread bread six times while trying to quilt just one of the 12" motifs. I knew then that there was no way I could make it all the way though all the quilting I had to do if it was going to keep going that way. So I let the SR go. It wasn't as hard as I imagined it would be! How wonderful that she had more faith in me then I did in myself. Thanks Heather! See? My stitches are pretty even and small. Yay! Of course I still have a long way to go and need loads more practice but it's a start.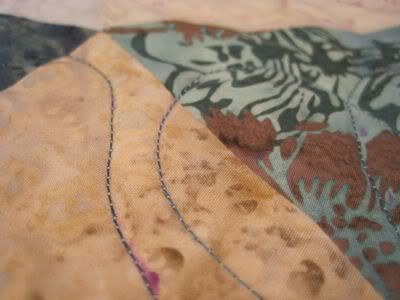 I also was planning on using two different thread colors for this quilt. I stitched up four of the 12" motifs before I realized that the dark teal color looked ghastly. I had done a wee bit of the border in a cream thread and decided it was loads better.... SO last night I started picking out all the thread and starting those sections all over. Maybe you can see the difference in this picture... the light triangle block in the lower right has the cream thread while the light triangle block in the upper left is using the dark teal thread... yack. I still have to pick that one out and redo it.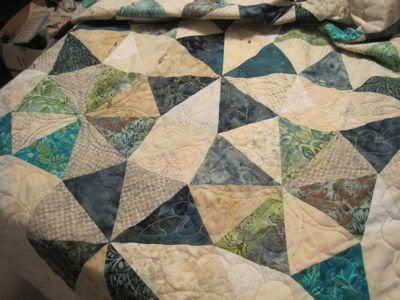 So all that to say there's no way I'll be done with this quilt in time for Christmas... so I broke the news to my sis this morning and happily she was cool with it. Thankfully her BD is in late January which *should be* just enough time to actually get it done. ^^