I can't believe I haven't made a post in a month! This February has been just nuts. All of my free time has been devoted to other endeavors, like searching out a good elementary school for our daughter who will start kindergarten in the fall (lots of round-ups, open houses and applications), filing our taxes, working on the
quarterly GIG newsletter
, starting seeds for the 2011 garden, not to mention all the regular stuff that needs taken care of. Happily it's almost over. ;^)
I have spent exactly two hours in my sewing room this month so not a lot to show. I worked a bit more on my sister's quilt and I also started cutting out the fabric for the Love Bubbles quilt.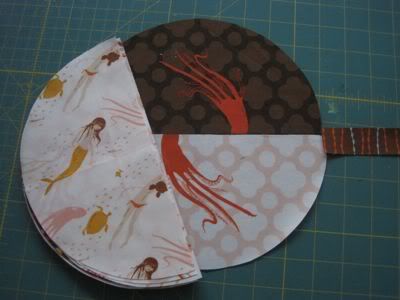 Just to show how busy I've been I couldn't even manage to finish a mug rug for the PMQG meeting.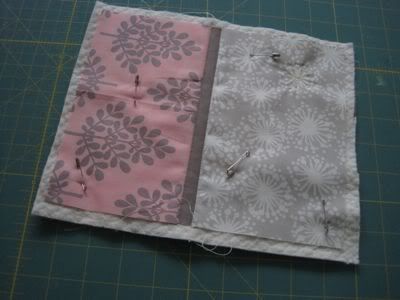 I managed to get it pinned but nothing else! How sad.
I did manage to sneak out of the house twice this month on quilt related sojourns. The first to the February PMQG meeting. Those are always so much fun. I even won glue! I've never used fabric glue as a way of basting and with my curved piecing coming up it might be handy.
I also went to a local quiltboard.com meet-up this afternoon. It was really lovely to meet such a nice group of women! We had a fat quarter swap and there was a lot of show and tell. No one appreciates a quilters work like other quilters.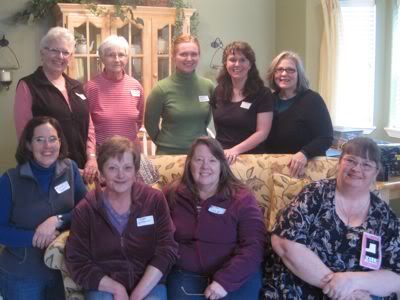 Top: Terry (Theresa), Mary (CrazyBaker), Me, Jen (sew cornie), Roxanne (roxannebcb)
Bottom: Karen (KarenBarnes), Laurie (quiltingnonie), Trish (trish b), Kelly (madamekelly)