I was reading a post by
Caron Mosey: Michigan Quilts!
in which she discusses the state of her stash. So I thought I'd share my stash with ya'll.
This is most of the cotton quilting fabrics* in quarters to full yards...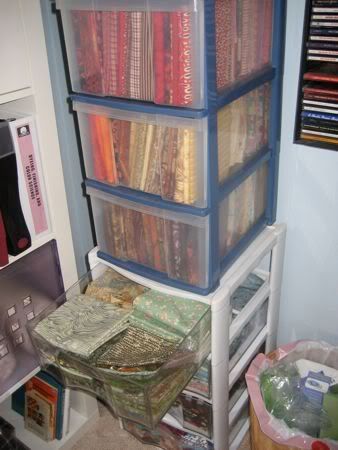 Yes they are folded neatly and organized by color. Yes it's a pain in the butt to keep it this way but on the other hand I don't want to get sidetracked by looking for fabric when I should be (want to be) quilting it! So I keep it up. It's not too difficult. I wrap the fabric around a long 6" wide quilting ruler and then fold it over. Nice consistently sized squares. Am I perfect? Is it always this way? HECK NO!
There is a pile of "scraps" that lives on the end of my ironing board.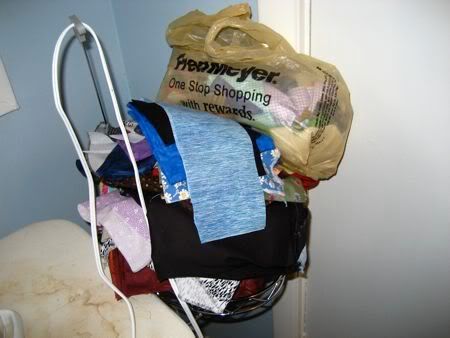 Recently most of this pile (and more!) has moved into a large box so I don't have to look at it. I like things out of sight; I have a hard time working in clutter. I'm trying to keep the "pile" to the size of the box. These are all odd sizes usually ranging from 2" or so up to about a fat quarter but not much larger.
I used to take the time to cut these scraps up into predetermined sizes and put them into baggies: 2" squares, 4" wide strips, etc. for ease of use. This has come in handy but I'm finding it's almost too obsessive. I can just grab the random shaped bits and cut them as needed so I may discontinue this habit.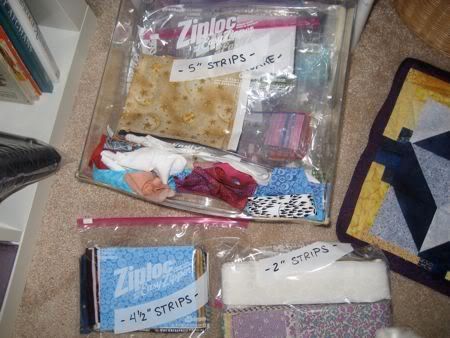 *Quilting fabrics are the majority of my stash but I also have other types of fabrics that are randomly mashed into large rubber bins that live around my sewing room. I rarely venture into them unless I need something for a Halloween costume or on the rare occasions that I'm making something other then a quilt.