I'm starting the collection process for a thousand pyramid charm quilt. I'm using any and all fabrics for 1/2 the pyramids but the other 1/2 I want to be mostly black. I have a few of these kinds of fabrics but will need many, many more. So I'm here appealing to you all to help me. If you could find it in your hearts (and stashes) to pull some 5" x 5" swatches of good quality mostly black fabrics (see picture below for samples of what I'm looking for...)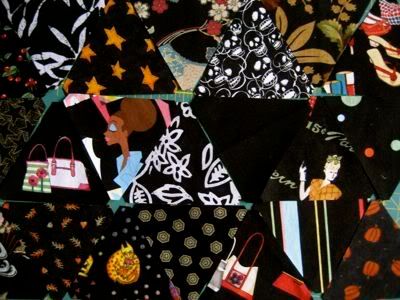 I will happily pull an equal number of whatever I have that you might be looking for and mail some 5" swatches back to you. I have batiks, calicos, kid prints, solids, etc. Just pop a note in your envelope with what you want.
Any takers?! Thanks for all your help!
Cheers~
Jenn
PS: E-mail me for address.