I received Jenny's center block with Cindy's first border on it: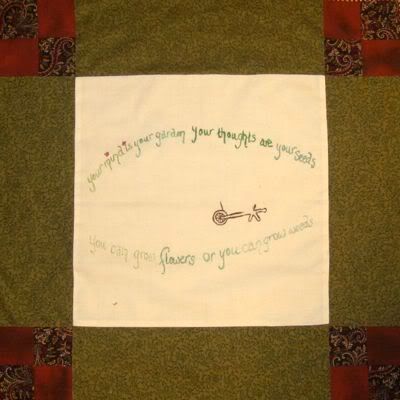 I understood that it would be okay to embellish the center block with embroidery. I don't really know how to embroider and thought better of practicing on someone's quilt! But my applique is getting better so I picked up a little bit of the applique work I did on the outer blocks with the addition of some applique on the center square to help tie it together. If Jenny doesn't want it on her center she can rip the stitches. I didn't cut out the backs like I did on my border so she can easily remove them if she likes, leaving her center intact. If she does like them she can cut out the backs and remove the freezer paper before she quilts it.
I also just went with the pallet that Cindy had chosen for consistency sake. I think overall it came out quite nice. I should be able to get this in the mail tomorrow.