These were a couple of blocks I made in an effort to get this quilt done. Originally it was started as part of the live journal "block of the month" quilting group but the mod sort of disappeared and since then no one has been posting any new patterns. I'm also signed up for a Birthday Block Swap over there as well. In the BB group, Sewingjo requested her blocks in yellows and blues. I liked the patterns I picked for her so much that I decided to make these for my poor neglected BOM quilt as well.
I had 14 sampler blocks done already so I just needed two more to get to a lay out similar to the one below that was pieced by Terri Kilgroe and freehand Quilting by Jessica Brunnemer. It was not my original intention to do this type of layout but I really quite like it and so will work toward completing it with something akin to this.
Here are images of my last two "outside" blocks... now I just need to figure out the math to get the set in, on-point block in the center. 0.o Also not sure what that block will look like but I have all the time I need. I'll just have to dream something up.
No Name Block #2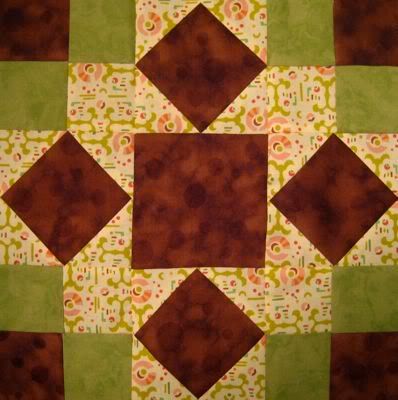 12 Triangles