YES! My kid slept long enough this afternoon to get the whole block done in one sitting! It was so
freeing!
I mean I really like the Dear Jane blocks but I didn't realize how much I needed to look at some bright colors and make some sloppy seams! lol... I've ALWAYS wanted to do a string quilt. Ever since I laid eyes on one for the first time. That was years ago - this is my first attempt at it and OMG - I LOVED IT like I always knew I would. I think I smiled the whole time I was making this.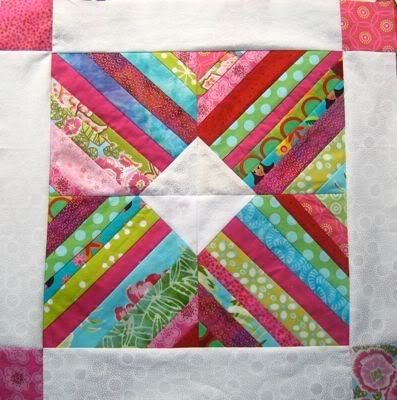 Notes to the next round of folks to work on this:
*14 1/2" unfinished (so 14" finished when the next border is sewn on)
*Scrappy! Summery! Fun! Please try to stick with the color pallet - hot pink, white on white, aqua, green, (a pinch of red), let the fabrics in the block be your guide.
*I like diamond shapes and circles and stripes... (just thought I'd throw that out there).
*I designed this block to work either on point OR not... so surprise me!
*Key fabric... since I was hoping for something kinda scrappy I'm not sure I'm going to send out a key fabric unless someone in our group really feels like they need it. Please let me know and I'll send it along then. Cheers~