Well, I've actually been *sewing*! And loving it. I think it has to do with being able to open the window to let some fresh air into the basement....
Anyway! I made another large block for the Single Girl. I guess that makes me a 1/18 of the way there. Doh. I know I feel kinda dumb for posting such feeble progress but I have to, otherwise I might stop sewing. I need to get motivated to stick with it. I'm excited though as I'm really loving working on this pattern especially with these fabrics. I can't remember who said they wanted to make this but it was sold out on the web site. I found it
FOR SALE HERE
. =D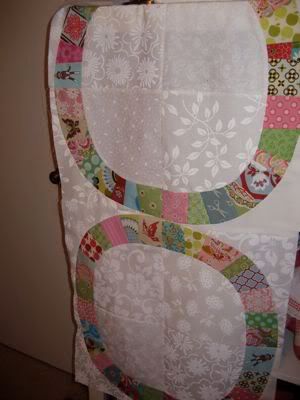 I also made something to send to Clumsy_Chord for the pay it forward craftiness meme that was going around. I think I can get these in the mail tomorrow.
I wish it was more but I haven't been so crafty lately. Anyway she's been working on a Shadow and Light quilt for a few years now and I know she needed some more blocks so I made a few for her.