Oh my poor blog here is flat-lining! I've been so busy with the garden and the kiddlet and baking and caning and volunteering I haven't had a second to do anything crafty. I've also been in a terrible slump too. I really needed a pick-me-up. Something inspiring and fun that was totally for me and totally craft. So on Monday night I went to the
NW Quilter's Guild Meeting
. I've never had a problem going off and doing things like that all alone. Though apparently it's not common as I was chatting with one of the ladies there and she remarked how *brave* I was to show up all on my own. I felt pleased at this but it also made me chuckle to myself. It's not like I'm marching off to war! What possibly could a roomful of grandma's DO to me? LOL...
So I found parking and the entrance and I tried to pay my $5 to be a guest but they didn't have change for a $20. Laura was taking the money at the door and I told her I'd find her at the end of the night and try to give her money and maybe by then she'd have change. She was very agreeable. I liked her immensely.
What really struck me was the number of women there. I think there were about 100. I don't know what I expected but I sure didn't expect that many! (I later found out that this was a poorly attended meeting too! 0.o) I think I was expecting a number closer to 30-40 people. So I tried unsuccessfully to pay, then I sat down in a chair by myself. I was having a grand time just taking it all in. There were tables and sewing machines and bits of quilts pinned to walls and lots and lots of old ladies happily chatting away. In fact (with one exception that a woman brought her 20 yo daughter) I was far and away the youngest person in the room. Is that the way it is then? Younger women connecting on-line and older women meeting up face to face? (Not to say there aren't exceptions) At any rate my solitude didn't last long. I was admonished (nicely) for sitting alone and dragged off to sit with Susan and Kathy. ::g:: Susan's been attending meetings for about a year while Kathy is one of the old guard. It was a perfect introduction as Kathy had all the answers to my many questions.
For example one of the reasons this meeting is poorly attended is that for years it was the "starter" meeting for new members (great timing eh?) and it's the end of summer and this is also one of the interactive meetings so I guess that turns off people as well. (?) Plus Kathy notified me of the wonderful refreshments and where they were located (I didn't have the heart to mention that I couldn't eat any of them!) Though later I did go back and make myself a cup of black tea and sniff the cupcakes (I'm celiac and can't eat wheat). I needed it to stay awake! Maybe I am old but by 9:30 I was pretty tired. (Meeting started at 7) I didn't get home till after 10 pm and was laughing to myself driving around in the dark thinking that in college we'd just be headed out the door to START our evening at 10! and here I was headed home at that time sooo ready for bed.
The meeting started off with a bit of business then they were going to divide us into groups so we could assemble a quilt top for charity with orphaned blocks people had donated. It took a long time for them to sort everyone into groups. I was really hoping to get into Laura or Kathy's group but it was not meant to be. I had a good time anyway...
This was the early stages of our design... it went though a lot of changes.
Here are a few of the designated sewers for our group.
Some of the other groups working away...
The direction the quilt was headed at the end of the evening. I think our group leader took it home to finish it.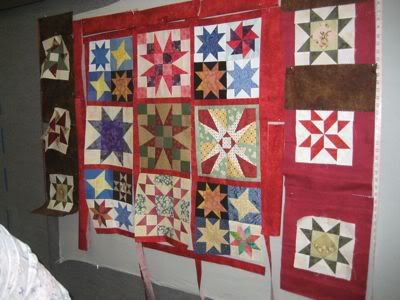 Once we were asked to stop our project so we could clean up I noticed a table at the back of the room. It had baggies of fabric on it. Enough in fact, to make a Twin top. I asked one of the ladies what they were for and she told me you could just pick one up, take it home and follow the directions on the back to make a top. Bring it in whenever it was done and it would be quilted and donated to charity. I thought this would be a good challenge to kick myself back into gear. There was one that had *beautiful* fabric in it so I set it aside.
I then went to find Laura to try to pay. She'd nearly forgotten about it... but she went to ask if there was change and there wasn't so she told me not to worry about it and was gushingly nice about the whole thing. I was informed however that in lieu of payment I had to come back next month. =) Uh, maybe I shouldn't have posted that in a public place - I'd hate for her to get in trouble. I'll still pay if they want me to!
I returned to our work area to pick up my stuff before I left and apparently I did a terrible job of setting aside the bag of fabric well enough, for the top I wanted to work on was gone. Dang it! So now I have to make myself work on the projects I already have going. I just really need to work on SOMETHING. Anything.
I did really like the show and tell at the very end of the meeting, even if I was terribly tired. It was inspiring and overall a good experience.