I've not been on-line in the evenings because I just want to sew and have been like a fiend. It's good. I think I finally found a rhythm that works for me. Work a little bit on a lot of quilts for a short amount of time. I've been putting together blocks for my sister's quilt, and working on the 30's repo quilt that I'd already half assembled a few years ago, hated, ripped this past winter and now I'm sewing all the pieces together
again
in a different pattern that I like so much better. In fact there's a kinda funny story about it.
My BFF had come up to visit a few years ago and she'd picked a pattern and bought fabric for this quilt (you know the one, the one we just finished this past weekend in one day!):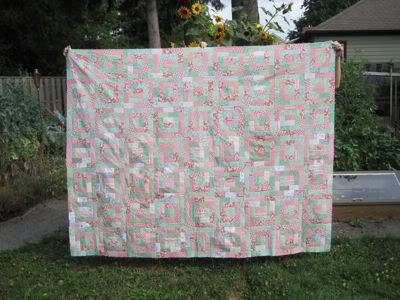 So she was asking to see all my UFO's and I popped open a box I'd completely forgotten about, the one with my own set of 30's repo pieces in it. Guess what? I'd chosen the same pattern and mocked up four blocks about six months ago. Great minds and all that... lulz.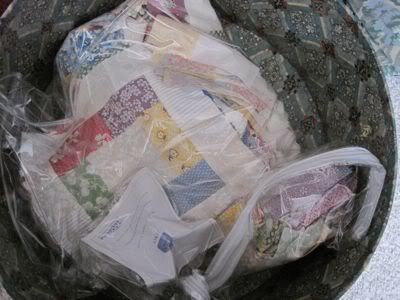 Also thought I'd give you a little peek at the hexagon quilt I've been working on. It's nice to have a traveling piece.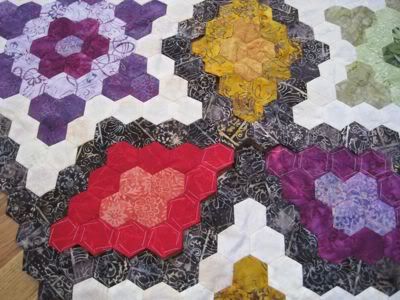 I took it out while at my daughter's Tae Kwon Do class and my BFF thought it was such a nice take-a-long project that we had to run right off to the fabric store after the class finished up so she could put together her own little kit. I love the fabrics she chose. I can hardly wait to see her make some progress on it.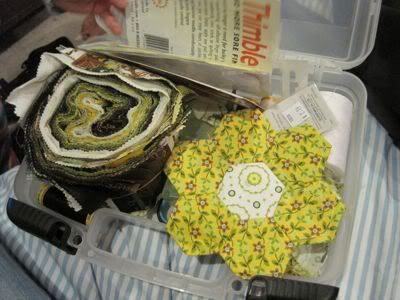 I might have mentioned that they gave out a bunch of salesman sample strike offs (headers) of quilt fabric at last month's guild meeting (
PMQG
) that someone had picked up (yay! whoever you were!) from some conference or other. I got a bundle before they were gone and the little stack has been staring me in the face since. Tempting me.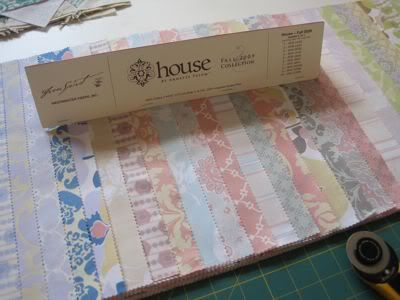 I don't know why but I'm completely fascinated with them and well you know me, I love a new project! So in between working on everything else I've been cutting fabric and sticking it to my design wall.... If I can just keep working in the evenings I can easily see finishing up this quilt in a few weeks. (Pattern is Schnibbles X-Rated quilt - it'll finish at about 60" x 60" I think)