I started this quilt in 2008 with a group of women on-line. The idea is that you start a center block that you make yourself, which I did.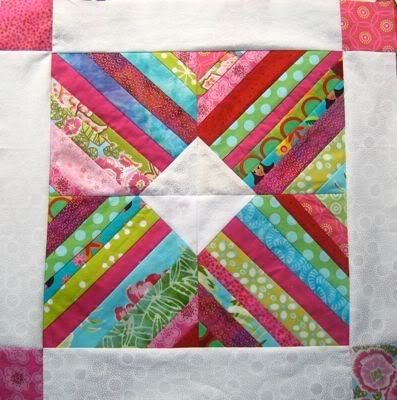 Once complete, you send your block to another person in the group and they add a border, then they send it to another person, who adds another border, etc. until it comes back to you a finished top. This top went around for months and finally came back to me in 2009. It's pretty much just sat in my sewing room for a year.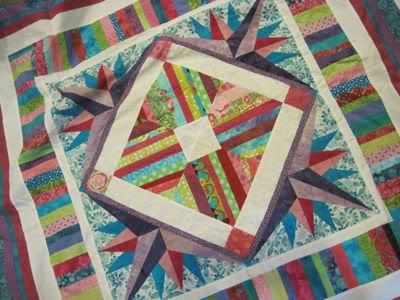 I was feeling pretty glum about it and in general bemoaning the large stack of UFO's that needed to be completed when I was approached by another on-line friend to start a UFO Club that would run for three months at a shot. The idea was that if you finished a UFO people would send you fat quarters. I'm a sucker for fabric, squee mail and the occasional kudos, so of course I was in. Heh. Well, this is the end of the that first session and lo and behold, it worked! I actually finished a top! Woo! Apparently I work better if I have deadlines and something at stake.
Of course nothing comes easy. I had more trouble with this quilt and my machine not getting along. First off I deviated from Warm and Natural Cotton Batting. I used a high loft poly instead because I thought it would be nice and light for my kiddo (for whom the quilt was being made). Uh yeah, FAIL. I had been using one brand of needle and when I ran out and I switched it to another brand and it started skipping stitches every time I went over a seam. There are a lot of seams in the quilt.
Consequently there was a lot of cursing going on as well. Yes, I was making sailors blush.
I finally googled to see if there was anything I could do to fix the problem (besides drive the two hours to the store where I'd originally bought the other brand of "working" needle) and a top stitching needle was recommended. I gave it a try and it did improve the situation but most certainly didn't make it go away. It was enough however to get the job done.
Also? Because I love to torture myself, in the areas with the sunburst blocks (not sure what their official name is, though I'm pretty sure that's not it) I'd quilted a pattern on all four blocks and decided once I was nearly done with all the other quilting that I hated it so much and it would drive me nuts every time I looked at it unless I fixed it, I ripped it all out. (How's that for a run-on sentence?! lol) Yeah, I re-quilted that whole part of the quilt putting in pebbles in the back ground. I'm so happy with it now! It's much better. Live and learn.
The other thing I'm kinda of surprised at is how busy it turned out once the quilting was complete. I still like it though and the most important thing? My kiddo is all snuggled up with it tonight and was completely *delighted* with it. So, win-win. =)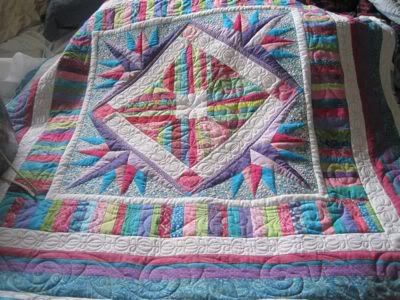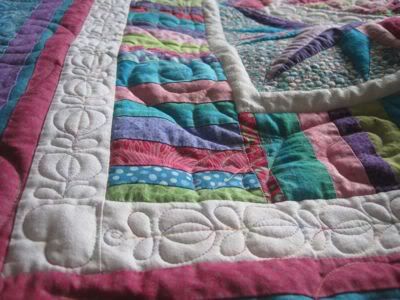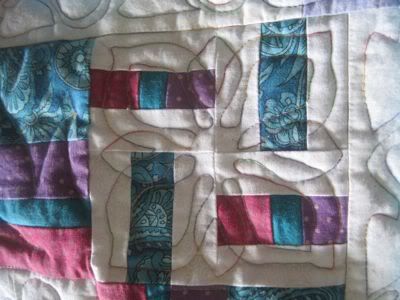 This is Snookie rolling around on it after I told her it was *finally* all done.