Remember way back on Monday when I'd mentioned that I'd won a bit of fabric? Yeah, well,
Lisa Marie of That Crazy Quilty Girl
wasn't kiddin around! HOLY COW PEOPLE! WouldYaLookAtThat?! Cause that my friends, is a crap load of fabric. Yess'em it surely is.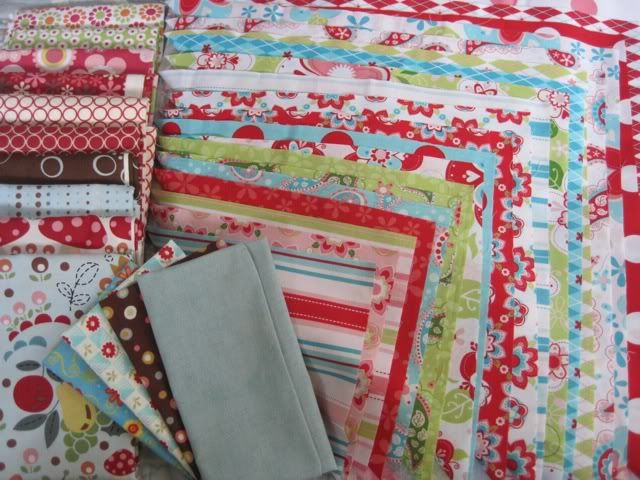 There's at least five yards of Riley Blake's fabric line,
Sugar and Spice
in FQ's in there. PLUS, it seems Lisa Marie had extra room in the shipping box she couldn't bare let see go to waste, so she added in a ton more stuff? Yes, yes she did. Nice! She added in some Riley Blake Designs (Summer Song) and some Hoodie's Collection and a wee bit of mish mash. So super awesome. It's all fun and summery and happy and just well, is sunshine in a box.
Of course now, it begs the question, which pattern shall I choose for all this fabric?! I think it would be really adorable to make Monica Solorio-Snow's (of
HappyZombie
fame)
LAWN CHAIR QUILT
with the Sugar and Spice. Fitting too since that's SO Monica's colors.
Or I could be adventurous and go with Lisa Marie's quilt along.
Oh decisions, decisions! At any rate, pretty freakin' awesome to win. THANK YOU SO MUCH LISA!