Here are a few Birthday Blocks I've made for the lj Birthday Block Swap Group.
BROKEN WHEEL VARIATION
This is a pretty straight forward block I did in a hurry since it was nearly a month late. 0.o I know, I know. I should've worked on it sooner but we've had company for a few weeks which makes it more difficult to find the time and well, it's summer so slightly less quilting a little more gardening.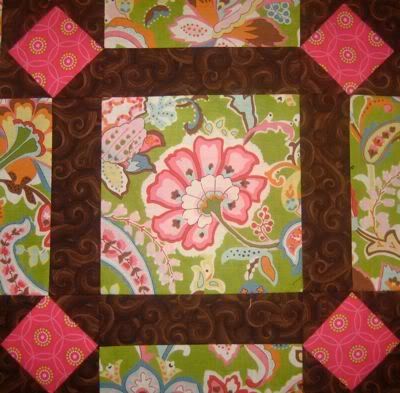 INDIANA CIRCLE BLOCK
Besides the fact that I like this block and wanted to make it anyway, it was a great excuse to practice my hand stitched applique. . I tried using freezer paper for the first time and ironed it onto the right side of the fabric and needle turned it under and used a ladder stitch. It was a lot easier than the other method's I'd tried till now - so as of current, it's my favorite method! I think it came out pretty good. (Much better than my last machine applique block! 0.o) This also makes me much less nervous about all the applique work that's coming up in the in the Java Jane quilt.