So I'm sure you've all heard by now about the disastrous flooding in Australia. Well Jan over at
Sew Many Quilts - Too Little Time
is organizing a donation point for
QAYG (Quilt As You Go) blocks
to make into quilts to give to the victims of the floods. To see all the quilts as she finishes them,
click here
. She organized over 2,300 of them for the fire victims a few years back. Impressive!
I thought I'd make a couple to send along. I've never done this technique before and - wow - it's addictive! And fun. I shouldn't be having fun - this is serious stuff! But I did. I made eight blocks and they're fast to whip up. I was also just bemoaning what I was going to do with a bunch of batting scraps I had laying around. Happily I didn't toss them in the great Clean Sweep of 2011. I'm glad I found such a good use for them.
The thing I really love about this kind of quilt is the true quiltiness of it. It really is all just super random scraps I have laying around - nothing matches, nothing is terribly "hip" but it is still beautiful and functional and a delight to look at. I even zig-zagged batting scraps together as well as used an old sheet for the backing.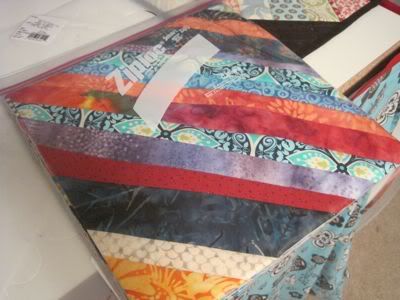 These are four blocks I've got half packed up and ready to go to Jan in Australia.
I'd like to try the whole technique out for myself so I thought I'd also try attaching the sashing to some blocks too. I probably won't sent it to Australia due to prohibitive shipping costs but may donate it to a local charity or Linus. I guess I just started another quilt?! Oh shoot! lol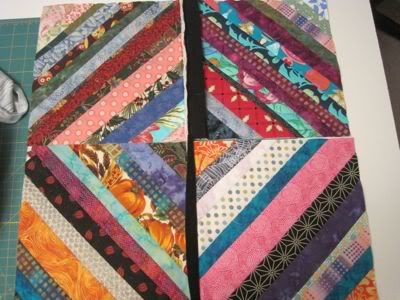 Four blocks with the sashing partially attached. Yay.