Slowly but surely working on my sister's quilt. There's so much quilting to do still. (Why do I feel like a broken record? Heh.)
Also I'm sure you all remember this lovely little top I pulled together? I'd asked
Andi
to share her modified pattern with me.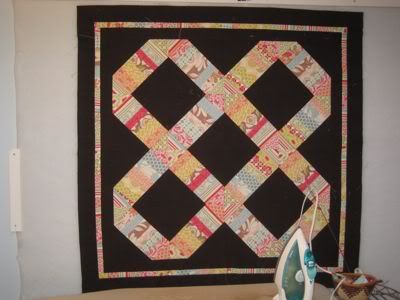 Well I have to laugh because it turns out I didn't need to after all. I'd done the BIG clean up of my sewing room which I've talked about a wee bit but what I haven't really mentioned was the residual activities of that.... I've gone though and sorted all my magazines and patterns, I've updated containers (from shoe boxes to nice little plastic pull out drawers) inside my cupboards, etc. Anyway, I found this pattern in one of my many piles of things. Look familiar?! Guess I really like it... but just not enough to remember I already had it. Ha!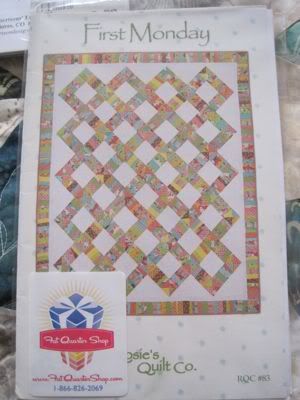 The only other thing I've worked on the past week are the QAYG blocks which I posted a bit about. I was surprised that my Bernina could not even put a DENT in trying to sew the binding between blocks. It was just too much fabric for the poor little delicate dear. I did however manage to get them all sewn up. How might you ask? The mighty little Spartan is how. Even though this was gifted to me a few months ago I haven't really had the need or excuse to use it until now. I had to fiddle with it a bit and I don't think it'd been oiled in an age! It was much happier after a bit of a cleaning and a newly wound bobbin. It had no problem plowing through all those layers of fabric then.