Portland Modern Quilt Guild
I went to the
PMQG
meeting Thursday night. Click the link to see what we're up to. Want proof I was there? Third picture down (on the PMQG blog), that's me in the black hat right behind the lady in green. What? You can't tell that's me? lol Sadly I didn't win anything this time around but it's still fun to be excited for those who do get the give-a-ways.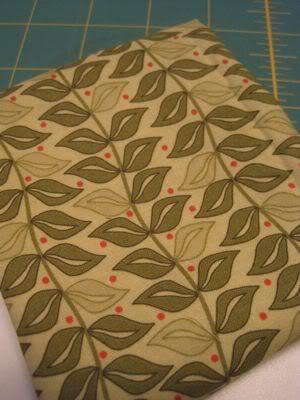 For the FQ swap I wound up with a cute little green one - my favorite color!
Hexagon Quilts
Also it was *awesome-possum* to see
Tania
finish the bulk of her squid hexagon quilt - so cool! We both started our hexagon quilts at the same time. She's super speedy. I loved getting a chance to look at all the fabrics close up. We had a nice little chat after the meeting about hexi's. (Yay for crazy english paper piecers!)
And I didn't know they took a picture of my hex in progress... ::grin:: Yeah, it's been stalled out a little bit but you can see I've finally finished the orange star. Next up with that project is to add in the diamonds around the blue star and attach the teal and orange stars so it's all one big piece. Then I can start working on the outer stars. What? You thought that was it? No, no. I am insane. Ha.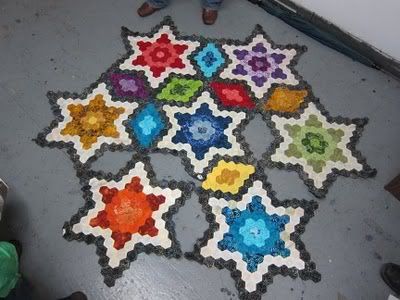 Kaleidoscope Quilt
Sunday was not a good quilting day. I was in the middle of working on my sister's quilt when...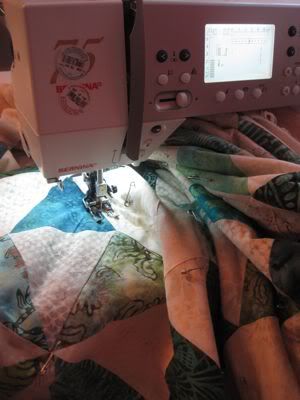 ...my kiddo comes into my sewing room with a red permanent marker. Yes. You can imagine what happened next. I nearly knocked her over in my rush to run from my sewing room to the laundry room, quilt in hand, to hit the effected area with a stain remover. The good news is, I was able to get most of it out.
You can hardly see where there's just a little bit of the red pen mark left.
The bad news, it was sitting there mostly stain free but also with a couple of spots of stain remover on it. The stain remover isn't supposed to dry on the fabric so I really needed to wash it out. However, because it's still all mostly pinned together, there's no way I could put it in a washing machine. I knew if I didn't treat it right away though it'd have a permanent mark. So after I sprayed it, I tried my best to rinse out just those spots. There was a big drippy chunk of it that then needed drying. I draped it over the shower curtain rod in the bathroom where it took all day and night to dry out enough to move back into the sewing room.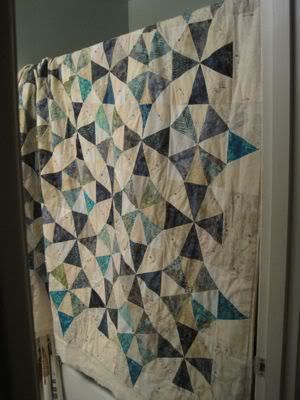 After all the rinsing and scrubbing I couldn't find any mark once it was dry. Whew~!
Apron
So in the meantime, instead of working on my sister's quilt I started the apron my daughter's been begging me for.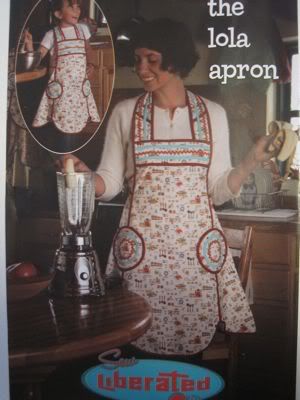 The Lola Apron
She picked out the pink fabric and I chose the coordinating fabrics to go with it. I'm not planning on any rick-rack (as shown in the pattern) since she said she didn't want any. I love how sophisticated this will all look together.
The pink will be the main body, the light grey patterned one will be at the top chest and for the pockets, the solid as the binding.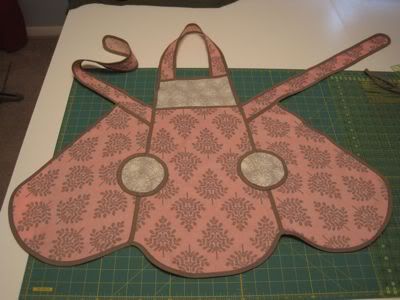 Here it is all done and sitting on the work table long after everyone else had fallen asleep.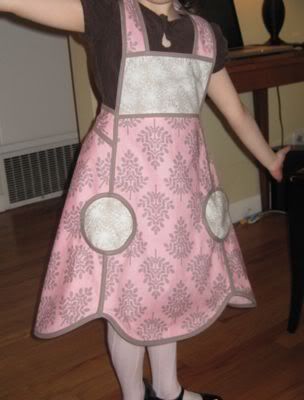 She tried it on the next morning and it fits her perfectly!